Mareen Smith — In the News
Ontario Music Association – Featured Member – Maureen Smith
As a consummate singer/songwriter/pianist/entertainer, Maureen has recently put together
"The Hit

Legends

Show

" 
live music
show
.
---
Real Estate Professional Magazine
Maureen Smith was recently nominated in 2016 in the issue of Elite Women as one of the top 100 women in the Real Estate industry in Canada by Real Estate Professional Magazine. She was additionally featured with a Cover Story on her music.
Maureen Smith, Spirit Songs of Inspiration, TOP 3, Country, Womens Radio
WomensRadio Music Review Awards: 2007
Q1+Q2: Country / Bluegrass
Spirit – Songs of Inspiration features 10 of Maureen Smith's original compositions and one cover song entitled "Air That I Breathe" written by Albert Hammond & Michael Hazelworth. The disc spans such genres as pop, country, top 40 and rock, all while teaching life lessons, empowering your spirit and healing the mind. Maureen's lyrics focus mainly on space and religion with common references to the sun, the moon & stars as well as angels & healing light. Maureen's music can be compared to the sounds of such performers as Loretta Lynn, Jody Miller, The Dixie Chicks and Sara Evans. We are blessed to have such an inspirational, confident and motivated female musician in this world, it's too bad that so many other artists haven't yet found themselves in such a way as that of Maureen Smith.
---
Written by Staff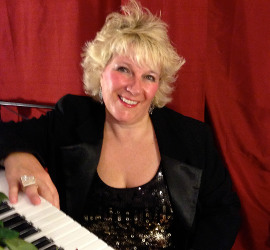 A production featuring the musical hits of such legends as Frank Sinatra, Elvis, Willie Nelson, Anne Murray, Bette Midler, Celine Dion, Shania Twain and more is coming to Meaford Hall on October 21.
White Eagle Promotions is presenting The Hit Legends Show, starring Maureen Smith, pianist/ vocalist, recording artist and songwriter along with her Legends Band  in concert  on October 21  at 7:30 p.m. Tickets cost $39.
The show is described by White Eagle Promotions as "a jazzy mood, upbeat energy, great music and entertainment, that's what you'll get with Maureen Smith!  She is a talented versatile pianist/ vocalist performing on grand piano with unique piano stylings, a powerful, dynamic and soulful voice and her legends band."
Smith has played piano and performed  for over more than four decades, with two albums to her credit including Spirit, Songs of Inspiration ( 2005)  "a unique healing and inspirational easy listening CD, combining easy listening, pop, country, native styles and instrumentation all in one with 10  original songs captivating a universal thread of inspiring lyrics that includes a unique arrangement of  the song Air That I Breathe. The CD features  Maureen on Piano, Keyboard, Vocals, Guitar, Percussion, in addition to Lenny Soloman, Violin, Ron Allen, Native Flute, Chris Coole, Banjo, Peter Bleakney, Bass Guitar, Tom Wasinger, Guitar, Percussion, and Mark Kelso, Drums. It was an award winning album on Women's Radio," says the promoter.
White Eagle noted that part of the proceeds from the performance will "go to  the  Georgian Triangle Humane Society towards  helping to save the lives of homeless dogs and cats and the pet adoption program."
Tickets are $39, and are available at the Meaford Hall box office, by phone at 877 - 538 – 0463, or online at meafordhall.ca
---